Grain Free Granola
Our grain free granola is crunchy with a sweet, buttery taste that makes you feel like you're indulging in dessert. It is grain free, refined sugar free and is gluten free…so no guilt here. Our recipe is packed with nutrient rich ingredients that provide you with many health benefits and is full of good healthy fats. Your entire home will smell like delicious baked goods! So here is the recipe…
Ingredients
1 cup chopped almonds
1 cup chopped pecans (or walnuts)
2/3 cup pumpkin seeds
¼ cup chia seeds
¼ cup unsweetened raisins (or dried cherries or cranberries)
3 tablespoons cup melted coconut oil
3 tablespoons honey (or maple syrup)
1 tablespoon cinnamon
½ teaspoon sea salt
Directions
1. Preheat oven to 300°F. Chop almonds and pecans into small pieces.
2. Combine all dry ingredients together in large bowl along including the cinnamon and salt. Set aside the dried fruit.
3. Mix honey into the melted coconut oil in a separate bowl.
4. Add the liquids into the bowl with the dry ingredients while constantly mixing to combine the ingredients.
5. Spread out the mixture onto a parchment paper lined baking pan.
6. Bake for 20-25 mins until lightly browned.
7. Remove from oven and transfer granola into the large bowl and mix in the dried fruit and let cool.
8. Once cool store in an air tight container.
What's In It For You!
When you enjoy this tasty recipe, you are reaping the health benefits while also nourishing your body at the same time! Here are a few ingredients with remarkable health benefits that we want to highlight:
Coconut oil – is high in medium chain triglycerides and lauric acid which improves brain function, stimulates metabolism, generates energy, helps maintain optimal cholesterol levels and destroys bacteria.
Pumpkin Seeds – are high in antioxidants and magnesium which is important for heart health, blood pressure and bone strength. Also, it is a great source of zinc which generates cell growth and division, improved sleep and mood and contributes to skin and eye health.
Almonds – are a great source of protein, vitamins and minerals and contain high levels of amino acids. They are most notably recognized for reducing cholesterol and are also beneficial for heart health and lowering blood sugar levels.
Cinnamon – is a warming spice that has high amounts of calcium and manganese. It has been used medicinally for its antibacterial and antioxidant properties that reduce free radical damage and inflammation. Cinnamon fights diabetes and protects cognitive function, defending the brain against developing neurological diseases.
Chia Seeds – this gluten free seed is rich in omega 3s, amino acids and antioxidants. Chia seeds have a high amount of protein and dietary fiber which makes you feel full faster, stabilizes blood glucose levels and helps reduce LDL cholesterol levels.
Ingredients
When choosing ingredients, always opt for the organic, non GMO, least chemically treated options. We only use the highest quality ingredients to ensure we are feeding our bodies the best foods possible.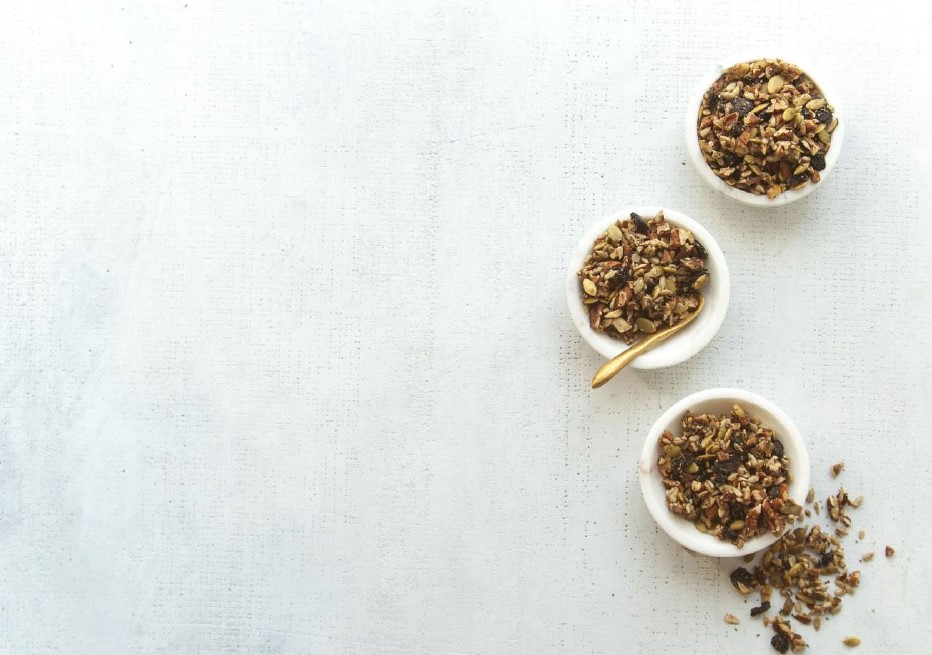 Here Are 3 Ways to Enjoy Our Granola
1. Baked Cinnamon Apple topped with Granola
2. Granola Cereal with Cashew Milk
3. Chia Parfait with Mixed Berries and Granola
Baked Cinnamon Apple Topped With Granola
Ingredients
2 apples
1 tsp lemon juice
2 tsp cinnamon powder
¼ tsp sea salt
1 tsp pure vanilla extract
1 tbsp. pure raw honey (or pure maple syrup)
Directions
1. Preheat oven to 375°F and line baking sheet with parchment paper.
2. Clean and cut apples in half and scoop out the seed and core.
3. In a bowl combine the lemon juice, vanilla extract and raw honey.
4. Mix in the sea salt and cinnamon powder until thoroughly combined with the wet ingredients.
5. Add the apple halves into the mixture fully coating every surface.
6. Place the apple halves skin down on the parchment lined baking sheet.
7. Loosely cover the top of the apples with foil and bake for 20-25 minutes.
8. Remove from oven and spoon in the granola into the natural holes of the apple halves and bake uncovered for another 10-15 minutes.
9. Remove from oven and serve warm. You can enjoy with coconut whipped cream or nondairy ice-cream.
Granola Cereal with Cashew Milk
Ingredients
1 cup raw cashews
4 cups filtered water
¼ tsp sea salt
2 tsps. raw honey (or pure maple syrup)
1 tsp vanilla extract
1 cup granola
½ cup fresh blueberries
1 peach sliced
Directions
1. Place cashews in a sealable container and pour water over them until completely immersed. Cover the container and soak overnight.
2. Once soaked, drain the cashews in a colander and thoroughly rinse them under cold water.
3. Place the cashews in a blender and add 4 cups of filtered water, honey, vanilla extract, and salt and blend until completely liquid and creamy.
4. Store in the fridge in a sealed container.
5. In a cereal bowl, add the chilled cashew milk and pour granola over generously. Top with blueberries and sliced peaches.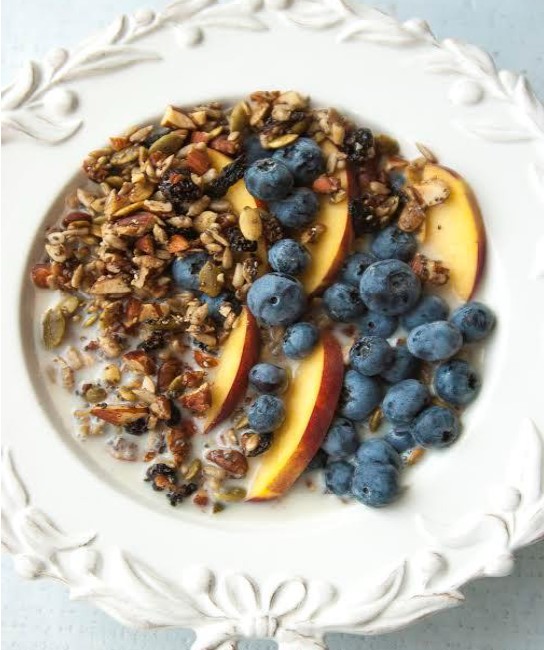 Chia Parfait with Mixed Berries & Granola
Ingredients
1 cup full fat coconut milk
¼ cup chia seeds
1 tbsp. raw honey (or pure maple syrup)
1 tsp pure vanilla extract
1 cup of fresh mixed berries (blueberries, strawberries blackberries)
1 teaspoon of lemon juice
1 cup of granola
Directions
1. Whisk coconut milk, vanilla extract and honey together in a bowl. Pour chia seeds into the bowl gradually continuously mixing. Cover and refrigerate for 4 hours or overnight.
2. In a separate bowl combine the berries (slice the strawberries in quarters) with the lemon juice and mix well.
3. Using parfait cups (stemless wine glasses work great too!) place a layer of the set chia pudding at the bottom.
4. Next layer the berry mixture on top and once the chia pudding is completely covered layer the granola on top of the berries.
5. Continue to alternate layers of the chia pudding, berry mixture and granola until parfait cups are filled to the brim.
6. Top with sliced strawberries or a drizzle of honey or almond butter.
7. Be sure to make the parfaits 5-10 minutes before you are ready to consume or serve so the granola remains crunchy.
Thank You!
Our grain free granola is a simple recipe that can be enjoyed many different ways including on top of your favorite dessert, over dairy free yogurt along with fresh berries and sliced banana or plain, by the handfuls. It is the perfect filling breakfast and is an ideal snack to take while traveling and on the go!
We hope that you and your family enjoy it as much as we do!